Attic Stairs
Most people aren't too keen on climbing up into the attic, and it's no wonder considering you have to pull out your rickety, old ladder and try to hoist yourself up through a hole that was apparently designed to accommodate a small child. In other words, it can be a trying experience.
Whether your attic happens to house your furnace or other equipment and you have to brave the dust and darkness annually to change your filters, or you use this extra space to store keepsakes like family photos and baby clothes, there are times when you simply can't avoid the need to go up top. In these situations, wouldn't it be nice to pull a cord and have a set of stairs roll down from above like a red carpet to invite you up?
With custom attic stairs, you'll not only get an attractive ceiling panel to hide the hatch, but you'll also gain easy access to your attic space, thanks to sturdy stairs and a much more accommodating entryway. Whether you want to make better use of this often underused square footage, or safety and convenience are your main concern, we'll help you to meet your goals with the perfect attic stairs for your home.
Baseboards
If you've never done any remodeling or upgrades to your home, you might not even know what baseboards are. Truly, not every home features this elegant finishing touch. I know what you're thinking – if you never noticed missing baseboards, why do you need them? Or if you already have them, why would you need an upgrade?
Baseboards serve a dual purpose. From a practical perspective, they cover the joint where the wall meets the floor, compensating for any gaps where floorboards are uneven or stopping the carpeting from pulling up around the edges. This can help to eliminate drafts, stop pests from creeping in, and protect the lower edges of walls from damage caused by furniture, feet, and even mop water.
Baseboards also serve a decorative function, hiding flaws around the seams and giving every room in your home a polished, sophisticated appearance. Baseboards that are missing or warped are an eyesore and a detriment to your home.
With our custom baseboards, you can find the beautiful, durable baseboards to complete every room in your home, stop pesky drafts, and raise the appeal and value of your property. Let us help you choose the perfect baseboards for your home and your budget.
Beaded Ceilings
Attractive and durable beadboard has long been used for wainscoting, cabinet doors, and backing for built-in shelving units, just for example. These days, beaded panels can also be applied to ceiling surfaces to add texture, luxury, and visual interest to any home interior.
Do you want uniform, easy-to-clean ceiling surfaces that shine and reflect light even in dark interior spaces? Or are you looking to create a special, high-end aesthetic in just a few specific rooms in your home? Our beaded ceilings can turn your dull den or boring bedroom into a unique and inviting space for relaxation or entertaining.
[before-after]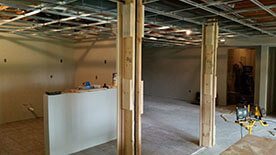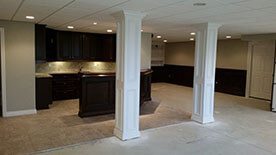 [/before-after]
[before-after]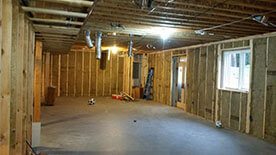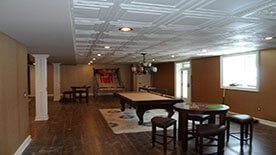 [/before-after]
[before-after]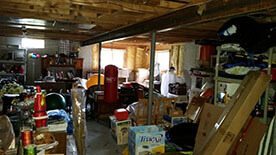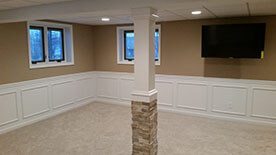 [/before-after]
Beams
Who wouldn't love to live in a rustic hunting lodge, a picturesque mountain chalet, or a charming country cottage? You don't have to imagine yourself in a fairytale setting to have the home of your dreams – you just have to install a few ceiling beams.
What if your home style isn't traditional? Not every homeowner can afford a classic Tudor or a mission style mansion. Good news! Even modern home interiors can benefit from the addition of beams to vaulted ceilings or airy expanses in attic rooms.
Beams can be added to flat or vaulted surfaces for the practical purpose of lending support to your structure or to existing paneled ceilings. Or you can add them purely for decorative purposes. Whether you prefer the rough and rustic appearance of nude or reclaimed wood or you like the look of painted or polished surfaces, we can help you to capture the essence of your favorite interior designs.
By installing beams, you can add depth, texture, color, and visual interest to any room. You can make even large rooms feel cozy and bring a touch of nature indoors. When beams are so easy to add, there's no reason to let a boring home interior get you down.

Chair Rails
When it comes to adding moulding to a room, whether you're doing it for practical purposes or aesthetic reasons, you might not know where a chair rail fits in. Is it meant to stop chair-backs from marring the wall? Or is it intended to make a room look balanced and properly proportioned?
It can serve both purposes, but it's actually intended as a bit of visual trickery to add scale to a room and make it feel, well, right. Certainly there are standards for the height of a chair rail, but generally speaking, you want to place them where they're going to make a room feel right. This is why so many rooms feature chair rails much lower than the top of a chair-back.
It's actually a mistake to set them to the height of your chairs. What happens if you get new chairs that don't match? If, however, you enter a room and it feels too small or large, chair rails are an ideal means of making the space look balanced and feel comfortable and inviting.
Whether you want to top off wainscoting, beadboard, or other lower wall paneling, or you love the look of a sectioned wall with darker paint on the bottom and a lighter shade above, our chair rails can add character, visual appeal, and proportion to any room.
Coffered Ceilings
It's the little touches that turn the average house into your own unique and comfortable home. For some people, this means painting each room the perfect shade of pink or filling every inch of space with personal knickknacks. Others prefer a minimalist approach to decorating.
Some people like clean, modern lines while others lean toward the embellishments of more traditional architectural styles. Whatever elements you look for in a home, one thing most people don't pay undue attention to is the ceilings, at least not unless there's a reason to look up.
Coffered ceilings, or those that feature sunken panels, are a wow-worthy addition to any room in your home that could use a bit of pizzazz. They can make even the dullest of dining rooms or kitchens appear richer and more ornate. Pair them with painted ceilings for understated elegance, pressed tin tiles for lavish adornment, or rustic wood panels for a modern twist on a classic style.
Columns
There are certain things you want when you buy a home: a solid and reliable roof over your head, walls that will keep out the elements, and adequate square footage to comfortably house your family. Ideally, you'd probably prefer a home that you find attractive and inviting, as well.
Then there are the extras that act as the icing on the cake, such as a structure that features architectural elements in keeping with your personal style sensibilities. Unfortunately, you might not have the option to purchase a home that meets all your criteria, and practicality no doubt trumps aesthetics on your list of priorities.
Never fear, you can still have the beautiful, classic structure you crave by installing traditional columns in your home. You can use them to hide necessary structural support beams or simply add them decoratively to frame a timeless fireplace, a kitchen island in your open floor plan, a large bathtub, or other features you want to bring visual focus to.
Crown Moulding
If you've visited homes that feature crown moulding, you've no doubt thought about how beautiful such treatments would look in your own house. You might also think this touch of elegance is far beyond your price range.
You'd be right on the first point. Crown moulding can take any home to the next level in terms of creating a luxurious and refined design. However, it doesn't have to cost an arm and a leg. There are so many options for products that you'll have no trouble finding an affordable selection to enhance every room in your home.
Whether you choose traditional or modern styles, you opt for opulence or simplicity, or you choose natural wood, painted or stained products, or other materials, crown moulding can help you express your personal style and turn the average, cookie-cutter home interior into a visual treat.

Custom Closets
You probably make do with some pretty sad closet space, like most of us. The average home doesn't come equipped with a closet worthy of Carrie Bradshaw and her amazing shoe collection. If you're lucky your closets feature a shelf and a bar to put hangars on.
You don't need to pine for the beautiful, well-lit, custom closets you see on the big screen and in celebrity home photo spreads. You, too, can have a closet full of nooks and crannies, drawers and shelves, and racks galore to separate out your jackets, slacks, tops, belts, shoes, hats, bags, and unmentionables.
Wouldn't you like a space tall enough for garment bags, as well as double rows of racks for shorter items like jackets and slacks or skirts? Wouldn't it be nice to have actual shoe cubbies or shelves instead of digging through a pile of loose footwear on the floor of your closet?
With a custom closet from Lone Star you can have the beautifully paneled, custom closet space you desire, and deserve. Don't presume that this design treat is beyond your reach. Anyone can have the perfect custom closets for their home and their wardrobe.
Custom Fireplace Mantels
Fireplaces come in all sizes and styles. You may live in an older home that features a traditional, wood-burning fireplace. Or perhaps your architecture is modern, with a gas or even electric model. You might have classic brick or stone around the opening, or perhaps your fireplace is surrounded by a tile pattern of some sort. Some fireplaces take up a whole wall from floor to ceiling.
Regardless, most people prefer a fireplace with a mantel. Since this feature is often the focal point of a room, a place where the family gathers, it's an ideal spot to display treasured photos and keepsakes, or add festive holiday decorations. Such decor is made much easier to display if the fireplace features a mantel.
What if yours is inadequate, or there's no mantel at all? You can certainly attempt to add your own, but you're going to see much better results when you partner with the professionals at Lone Star to choose a mantel that not only fits your space and meets your practical needs, but is also perfectly matched to the style of your architecture and your design sensibilities. Don't let this central area be an eyesore – transform it into a showpiece with a custom fireplace mantel.
Custom Trim
You've installed baseboards, crown moulding, and even a chair rail, but your home still feels unfinished. What can you do to make boring wall space more exciting, add visual interest to an otherwise humdrum room, or feed your need to customize your home from top to bottom?
You're in luck. Custom trim is a great way to meet any or all of these goals when it comes to interior design and turning a cookie-cutter house into a home that reflects your personal style, sophistication, and creativity. You can utilize custom trim products in a variety of ways.
For example, custom trim could be added to embellish existing window and door casings, as well as baseboards and crown moulding. It could be used on the sides, tops, bottoms, or front faces of cabinets, bookshelves, and other built-ins.
You could also get really crafty and frame in 3-dimensional wall panels for a truly one-of-a-kind interior design that is totally customized to any wall space in your home. Whether you want to add weight, texture, and visual appeal to the wall space beneath chair rails, or you're interested in adding custom frames in which to nestle photo displays or a flat screen TV, there are so many ways to use our custom trim service to create the unique home interior you've got in mind.
Door and Window Casings
You walk through your doors and open and close windows in your home all the time. How often do you pay attention to the little details that make these common home features stand out? If you're like most people, you don't notice the detail work around windows and doors because it's either dull and relatively featureless or it simply doesn't exist.
The devil is in the details, or so the saying goes, and many builders focus on function at the expense of form, leaving you with a home that works fine but does little to uplift the spirit. How do window and door casings fit into this picture? What difference do these simple embellishments make?
They can make a world of difference, transforming your humble abode into a richly textured, lavishly appointed, breathtaking interior space that begs to be noticed and praised by all who enter. Nobody wants a home that is only so-so.
If the main architectural features in your home are the windows and doors, why not do all you can to bring them into the room with custom casings?